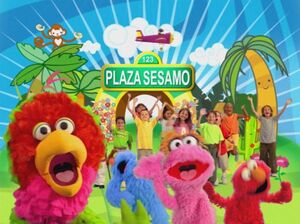 Picture
Segment
Description

SCENE
Pancho watches as the plaza doctor gives Manuel and Daniela a checkup.

Animation
Stamped and painted X animation.

Song
"Lavarse las Manos"
(EKA: Episodio 757)

Muppets
Kermit shows what's inside of Herry Monster using the X-ray machine.

Film
Ornate Xs spin around in accompaniment to a song.

Muppets
Grover goes to the doctor for a check-up, and describes to the viewer what the doctor is doing. Grover gets scared when it's time for a booster shot, but is so scared that he doesn't notice when he gets it.
(EKA: Episodio 843)

Cartoon
Lapicito draws an uppercase X.

Muppets
Pancho and the kids sing about water.

Cartoon
Lapicito draws a lowercase X.

Film
A mime enlarges his body parts.

Muppets
The Number of the Day:


The Count and The Countess: 13

Film
Kids talk about what they want to be when they grow up.
(EKA: Episodio 731)

Cartoon
The parts of a man's face move around as they are drawn.
(EKA: Episodio 732)

SCENE
The doctor now gives Lola and Pancho and check up.