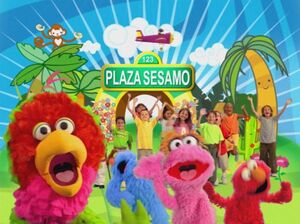 Picture
Segment
Description

SCENE
Everyone takes turns whacking a piñata.

Cartoon
Fish form capital and lowercase T's.
(EKA: Episodio 733)




Film
Artist/sculptor Milo Mottola teams up with some kids to create a carousel.

Cartoon
A woman ice skates with a number 1.
(EKA: Episodio 732)

Cast
Carmen sings "Si Quieres tú Puedes Triunfar."
(EKA: Episodio 746)

Cartoon
Monsters have a "fiesta" (party).
Artist: Oscar González Loyo
(EKA: Episodio 807)




Muppets
Pancho turns on his TV to show the letter T, for Tortuga.
(EKA: Episodio 841)

Film
Kids make a homemade piñata.

Cartoon
Aliens have a hard time playing basketball, until they decide to take turns.

Muppets
Phil Harmonic introduces Charmin', who performs an opera about the fax machine.

Animation
Spinning T (to the tango beat).

Film
A girl gets a custom piñata made.

Cartoon
A T becomes the design on a "tortuga"'s (turtle's) shell.




Muppets
As Pancho makes an important phone call, Lola visits the inside of the telephone operator's office.
(EKA: Episodio 841)

Animation
The number 1 in various typefaces.
(EKA: Episodio 863)

SCENE
Los Monstruos También Lloran
Leticia Calderon comes by to Manuel's house to borrow some sugar. Manuel is so excited that he invites her into his house and calls to Daniela and Abelardo to see Leticia. When Abelardo took a look at Leticia, he became very shy and hides from her. After Leticia says hello and talks to him, Abelardo overcome his shyness and introduce himself to Leticia. Then Abelardo ask Manuel to take a photo of him with Leticia, but she is scared of having her picture taken and looks away as the camera flash went off. After seeing that there is nothing to be afraid of, Leticia wanted another picture taken of her with Abelardo and Daniela. Manuel happily takes another one and this time getting everyone's faces in the picture.
Community content is available under
CC-BY-SA
unless otherwise noted.