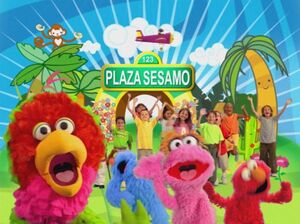 Picture
Segment
Description

SCENE
Manuel and his Multimonstruo pal return from their soccer game all dirty. Susana has them take a bath. However, after they bathe, Susana smells a fowl stench, which turns out to be the monster's perfume.

Cartoon
Baby turtles head to the "mar" (sea).
Artist: Oscar González Loyo
(EKA: Episodio 743)

Film
A girl narrates a film of herself swimming.

Cartoon
The letter F becomes the legs of a flamingo.

Film
A boy meets his grandfather on the beach.

Cartoon
A man goes fishing at a "lago" (lake) and gets pulled in by the fish he's catching.
Artist: Oscar González Loyo
(EKA: Episodio 732)

Muppets
Ernie and Bert: Ernie comes from finishing his bath, and tells Bert that there's something that he forgot. Bert asks if he's washed behind his ears, his neck, and his elbows. Finally, Ernie remembers that he forgot to turn off the water in the tub -- as the water level rises.
(EKA: Episodio 732)

Animation
The number 18 is written.

Film
A boy attends his swimming class.

Cartoon
Number Creatures #18
(EKA: Episodio 757)

Film
A big F emerges, "Jaws"-like, in a swimming pool.

Muppets
The Number of the Day: 18, song with Count von Count and The Countess.

Film
A film insert about washing elephants at the Bronx Zoo. The song "Splish Splash" is used in part of the segment.
(EKA: Episodio 810)

Cartoon
Monsters have a "fiesta" (party).
Artist: Oscar González Loyo
(EKA: Episodio 807)

Film
A visit to an aquarium.
(EKA: Episodio 741)

Cartoon
A mother sings the story of how water travels down the drain and becomes rain.

SCENE
Lola Aventuras
Lola and her monster guide observe waterfalls.