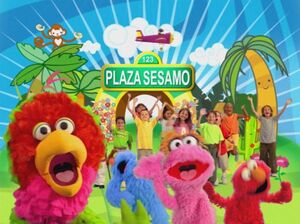 Picture
Segment
Description




SCENE
Federico Pelini looks for actors for his new movie. Neftalí's dog won't work, nor will Daniela's turtle, however Elefancio beats all of them.

Cartoon
You've Got A Letter: I

Film
Two boys groom their dog, but when they get clean, he makes them dirty again.
(EKA: Episodio 734)

Cartoon
In an aerial view of a soccer field, announcers count 11 passes of the ball.

Muppets
The Number of the Day:


The Count and The Countess: 11

Cartoon
An "imán" (magnet) attracts the word.
(EKA: Episodio 731)

Song
"Washin' the Dog"
(EKA: Episodio 819)

Cartoon
A boy talks about his big dog, that will be his best friend no matter what size it will have.

Muppets
Flo Bear writes a story with the "help" of Gladys the Cow.
(EKA: Episodio 869)

Cartoon
I for Iguana
Artist: Oscar González Loyo
(EKA: Episodio 849)

Muppets
A Multimuppet farmer and kids sing about the farm.
(EKA: Episodio 812)

Cartoon
A poem about dogs of different sizes, feelings and colors.

Muppets
Baby Bear, Rosita and Zoe cheer for the letter I.
(EKA: Episodio 867)

Film
Kids tend to farm crops.

Cartoon
A boy imagines his room turning into a jungle.
Artist: Karen Aqua
(EKA: Episodio 798)

SCENE
Lola, Abelardo, Manuel and Daniela follow a butterfly.
Community content is available under
CC-BY-SA
unless otherwise noted.