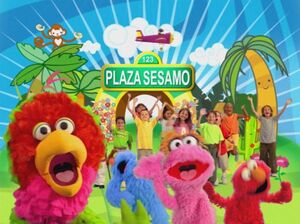 Picture
Segment
Description

SCENE
Vincente tries to find the perfect gift in his cart for Susana to give to her husband, Pablo.

Film
A gardener trims a bush to form a giraffe.
(EKA: Episodio 811)

Cartoon
A pair of hands play the drums.
(EKA: Episodio 746)

Film
A boy named Anthony and his parents are trapeze artists in a circus.

Animation
Alligators, rabbits, birds, cheetahs, lizards and a monkey contribute to a rhythm and dance together.
Artist: Karen Aqua

Song
"Mommy's Lap"
(EKA: Episodio 872)

Cartoon
A J becomes the neck of a "jirafa" (giraffe).

Film
Kids aid the preparation of a festival.

Cartoon
An elephant tries to remember Nigel (a cat's) birthday, succeeding after stringing together a series of clues.
Artist: Fred Garbers

Film
A boy and father make a guitar.
(EKA: Episodio 864)

Cartoon
A violinist plays, until his strings break.
Artist: Jeff Hale
Edited from a Consonant Sound Poem
(EKA: Episodio 760)




Video
Gymnasts form a J, for Jose.
(EKA: Episodio 842)

Cartoon
All the instruments in Sousaville love Mr. Tuba's music, but when he plays with them, he doesn't play the same music they're playing.
Artist: ArtistMike

Muppets

The Number of the Day: The Count counts and sings up to 14, accompanied by the Countess and their band of musicians.

Cartoon
A trio of instruments bring color to themselves by playing together.

Muppets
Ernie tries to get baby Ernestine to say his name. It turns out she's much better at saying "Bert!"
(EKA: Episodio 822)

Animation
A quartet of horns arranges themselves in the proper order to play Beethoven's "Ode to Joy."

SCENE
At the XEM Monstruos radio studio, Pancho presents another edition of his radio opera, but his Multimonstruo sound-effects maker doesn't know what sound a chicken makes.
Community content is available under
CC-BY-SA
unless otherwise noted.