Plaza Sésamo
Plot
Hangin' with a soccer player
Air date
2006
Season
10
Sponsors
L, 12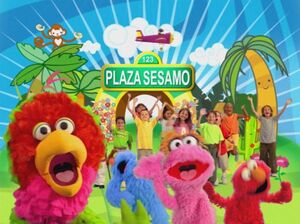 Picture
Segment
Description

SCENE
Pancho, Abelardo and Lola hang out with a soccer player on the field. They try to think of they can do to exercise. Lola thinks they should hula-hoop, but they only have one. Pancho suggests dancing, but there's not music. The player suggests they run instead.

Cartoon
Superkid brushes his teeth.
(EKA: Episodio 865)

Film
A song about how children shouldn't hide their smiles.

Cartoon
When a rhino gets stuck in the mud, his bird friends help pull him out.
(EKA: Episodio 869)

Cast
Carmen sings "Si Quieres tú Puedes Triunfar."
(EKA: Episodio 746)

Cartoon
An L becomes the mane of a "leon" (lion).
(EKA: Episodio 866)

Muppets
"Let's All Exercise"

Cartoon
L for Luna - A astrologist spies the word "luna" in the sky.
(EKA: Episodio 845)

Animation
Playing cards form an L and limbo.

Cartoon
A movie director calls for 12 pilots, 12 airplanes, 12 parachutes, 12 clowns and 12 pies.
(EKA: Episodio 807)

Film
A soccer ball is kicked arriba (over) and debajo (under) a goalie.
(EKA: Episodio 817)

Cartoon
Alice Kadeezenberry learns how to throw a ball by watching others do it.
Artist: Paul Fierlinger

Muppets
The Number of the Day: The Count counts and sings up to 12, accompanied by the Countess and their band of musicians.

Film
Children demonstrate "up" and "down" with balls.
(EKA: Episodio 878)

Film
A girl and her sister, Daniella, take dance lessons.
(EKA: Episodio 864)

Cartoon
Aliens have a hard time playing basketball, until they decide to take turns.
(EKA: Episodio 875)

Muppets
Lola attends a ballet class.

Cartoon
Three robots cooperate to retrieve their soccer ball.

SCENE
The trio gets hot and needs a fan. Pancho literally calls in a "fan" of his. They all agree on stretching.

Insert
Abelardo and Fernando Platas stretch.