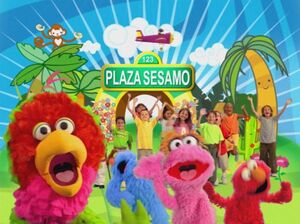 Picture
Segment
Description

SCENE
Lola Aventuras
Lola rides in Barón Púrpura's hot air balloon. They point out the clouds they think look like various things. Once they land, a monster hiker mistakes them for clouds.

Cartoon
A B becomes the fins of a "ballena" (whale).
(EKA: Episodio 871)

Muppets
The Number of the Day: The Count counts and sings up to 12, accompanied by the Countess and their band of musicians.
(First: Episodio 886)

Film
A girl named Shirley performs in the circus; her father is a clown. Other acts in the circus include elephant training and elephant jumping.

Cartoon
A girl names her family members as they assemble for a picture.
(EKA: Episodio 877)

Video
Gymnasts form a B, for Bertha
(EKA: Episodio 822)

Animation
Cecille sings "I Wanna Be Me."
(EKA: Episodio 813)

Muppets
Abelardo, Pancho, Lola and the kids sing about the colors of the rainbow.
(EKA: Episodio 797)

Animation
A piece of paper floats down onto a table, then folds itself into a paper crane, which flies away.




Muppets
On Monster Day, the monsters (including Elmo, Rosita, Merry and Frazzle) show Big Bird a B word, "bota" (bounce) as they bounce off a giant letter B board.
Taken from episode 3707 of Sesame Street
(EKA: Episodio 871)

Cartoon
A movie director calls for 12 pilots, 12 airplanes, 12 parachutes, 12 clowns and 12 pies.
(EKA: Episodio 807)

Film
A boy a rodeo watches then performs in it.

Muppets
Farley sings "Figure It Out."

Cartoon
Leanna Williams explains why she loves her brother's shoes - she has fun with the box they came in.
Artist: ArtistMike

SCENE
La Abuela reads a story to Lola about a prince and a beanstalk. Lola envisions herself in such a story, having to rescue a chicken trapped in a tower. He summons a beanstalk and begins climbing it, but she would rather eat the beans than continue climbing for the chicken.
Community content is available under
CC-BY-SA
unless otherwise noted.