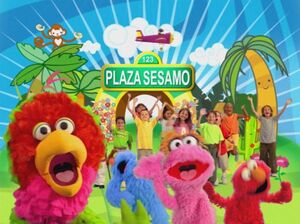 Picture
Segment
Description

SCENE
Lola sleeps over at Daniela's house, but becomes frightened of dark figures when the light goes out.

Animation
Spinning T (to the tango beat).
(EKA: Episodio 875)

Film
"I Am So Happy" is sung over footage of a dog catching a girl's frisbee on a beach.
(EKA: Episodio 872)

Cartoon
A cat learns not to be scared of its shadow.
(EKA: Episodio 887)

Song
"I'm the Big One Now"
(EKA: Episodio 747)

Cartoon
A man tries to carve a sculpture of George Washington, but is material cracks, forcing him to change it several times. He ends up using the remaining parts to make a paperweight for his plans.

Film
T for Triangle

Animation
The number 16 is written.
(EKA: Episodio 870)

Muppets
Telly and his pet flea practice the way someone looks when they feel. Big Bird comes along and wants to see the flea show happy. Telly reluctantly orders his flea to be happy, but when he gets happy, he ends up breaking the wall in excitement.
(EKA: Episodio 865)

Cartoon
A snake is on, in, under and stuck in a tree branch.

Muppets
Kids (with the help of Pancho and Elefancio) sing about saying "por favor" (please) and "gracias" (thank you).
(EKA: Episodio 865)

Cartoon
Bud the Bird flies above and below in a bumper car.
Artist: Lisa Crafts

Muppets
"Sixteen Samba"
(EKA: Episodio 851)




Film
A boy sings about the different kinds of hats, then watches one being made.
(EKA: Episodio 748)

Cartoon
Alice Kadeezenberry has a hard time figuring out how to get around a mud puddle without getting dirty.
Artist: Paul Fierlinger

Muppets
Pancho shows "Over, Under, Around and Through", but gets exhausted.