Plaza Sésamo
Plot
Plaza Oympiadas (part 2)
Air date
2006
Season
10
Sponsors
O, 2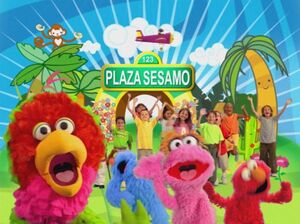 Picture
Segment
Description

SCENE
Antonio de Valdés and Dienton call out to Modesto Microfono, who reports on the plaza, where he interviews a celebrity athlete about the upcoming sack race.

Film
Ballerinas make Os.
(EKA: Episodio 887)

Muppets
Elmo and Zoe watch Jock Soto and Lourdes Lopez cooperate to dance ballet, and dance with them.
(EKA: Episodio 872)

Animation
Letter Garden: O/o
(EKA: Episodio 860)

Cartoon
Wilma Wiggins makes the very best of a very silly situation by hiccuping her way through an opera.

Film
Lindsey practices her basketball shooting with Steph.

Animation
Flower pattern - what goes in the middle?

Muppets
The Number of the Day
Two tubas in tutus, tap dancing, show up after The Count learns that the number of the day is 2.
(First: Episodio 864)

Animation
Slot machine legs: tiger.

Film
Kids play a game where they dance under a "bridge".
(EKA: Episodio 888)




Video
Gymnasts form an O, for Olga.
(EKA: Episodio 809)

Cartoon
It takes two kids two blow up a number 2.
(EKA: Episodio 734)

Muppets
Elmo rides a tricycle and sings "Riding My Tricycle" to express his joy and pride in the activity.
(First: Episodio 870)

Cartoon
Aliens have a hard time playing basketball, until they decide to take turns.
(EKA: Episodio 875)

Animation
Arrows give a presentation of the human body.
(EKA: Episodio 744)

Cartoon
Global Thingy
Diva Thingy wants to be in her nest but can't fly high enough; the other thingies make a ladder to get her up there.

Film
A boy talks about baseball.

Cartoon
O for Ojos (eyes)

SCENE
The sack racing begins between Daniela, Manuel, Abelardo and the celebrity. However, Manuel has a hard time jump in his sack and loses, making him throw a fit and storm off. His sister and the celebrity comfort him.