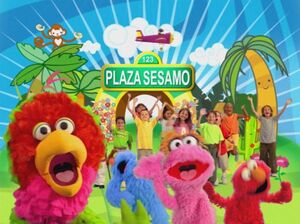 Picture
Segment
Description

SCENE
Pablo Bigotasso and the kids paint pictures on the wall of Don Boni's shop.

Film
Letter Garden H/h
(EKA: Episodio 848)




Muppets
Abelardo and his friends celebrate his birthday sailing in a riverboat. Pancho sings him a song about the plants that grow around the area.

Film
Kids take a field trip to a historical house.

Cartoon
A ship captain orders the numbers 1-20 into a boat - which promptly sinks.

Muppets
News Flash: Dr. Nobel Price wants to show off his latest invention, a piano, but it's already been invented. Kermit even knows how to play it.

Animation
The number 20 is drawn.
(EKA: Episodio 881)

Film
A boy and his father make a guitar.
(EKA: Episodio 892)

Cartoon
Lapicito draws an H.

Muppets
Two creatures watch a girl dance while balancing two glasses with liquid inside.
(EKA: Episodio 740)

Cartoon
A chicken lays 20 eggs.




SCENE
A Multimonstruo trumpet player holds a concert (which La Abuela and Lola attend). However, when he blows his trumpet, not sound comes out. He looks inside and finds the usher's sock, La Abuela's glasses and Lola's pet cat.