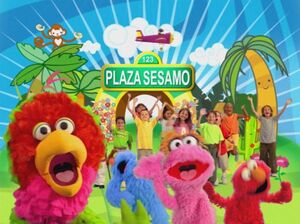 Picture
Segment
Description

SCENE
The gang performs "Me Gusta Bailar" ("I Like to Dance").

Cartoon
6 faces
(EKA: Episodio 821)

Film
Kids play rhythms on pots, pans, a barrel and a washboard.

Cartoon
Bud the Bird flies above and below in a bumper car.
Artist: Lisa Crafts
(EKA: Episodio 895)

Muppets
Super Grover teaches a class for potential superheroes. Among his students are Telly, Elmo, Zoe, Rosita, Herry, and Merry.
(EKA: Episodio 880)

Cartoon
A dinosaur demonstrates up and down with a pull-down window shade.

Film
6 kids dance in six squares.
(EKA: Episodio 804)

Cartoon
Flossee and Splat stop at the playground and play rather intensely on the seesaw.

Muppets
In the jungle, Joey and Davey Monkey see a bunch of bananas on a tree, and try to figure out how to get them down. They climb up the tree, knock the bananas off, and are about to climb down, when an elephant carries the bananas away. They decide to order a pizza instead.
(EKA: Episodio 805)

Cartoon
Lapicito draws a P.
(EKA: Episodio 843)

Film
A girl and her sister, Daniella, take dance lessons.
(EKA: Episodio 864)

Cartoon
A snake is on, in, under and stuck in a tree branch.
(EKA: Episodio 895)

Film
Kid jungle explorers sight a wild letter P.
(EKA: Episodio 888)

Cartoon
A bird watches as two monkeys climb above and below each other in a tree.

SCENE
Modesto Microfono reports on a game where Manuel, Daniela and a Monster jump over a rope. The monster holding one side is confused about the difference between up and down when they asks to lower the rope or make it higher. When the monster's turn comes, he calls to make it very high, only to limbo under it.