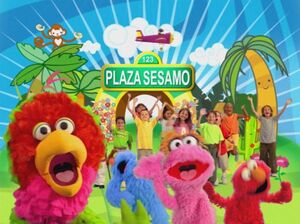 Picture
Segment
Description

SCENE
Abelardo, Lola and Pancho welcome a new family that has moved to the plaza from Argentina.

Cartoon
Lapicito draws a J.
(EKA: Episodio 842)




Muppets
Pancho introduces the letter J, for Jirafa (giraffe).
(EKA: Episodio 787)




Video
Gymnasts form a J, for Jose.
(EKA: Episodio 842)

Cartoon
Three robots cooperate to retrieve their soccer ball.
(EKA: Episodio 886)

Muppets
Polly Darton performs "It's Funny" for a crowd of laughing Muppets.

Celebrity
10 characters (all played by Adal Ramones) cram into an elevator.

Cartoon
Household appliances count 1-10 and 10-0.

Muppets
Elmo counts to 10 using two human hands.
(EKA: Episodio 830)

Cartoon
A group gives a newcomer funny looks, which hurts his feelings, but then they invite him to play marbles with them. He turns out to be a good player.
Artist: Joanna Priestley
(EKA: Episodio 816)

Muppets
The Count starts his first day as an elevator operator. Kermit the Frog wants to go to the seventh floor, but the Count would much rather go all the way to the top floor.
(EKA: Episodio 761)

Cartoon
A story/song about a duckling who wants to join the others playing at the water's edge.

Film
A gardener trims a bush to form a giraffe.
(EKA: Episodio 811)

SCENE
At Susana's house, Pancho learns to try new foods when they don't serve anything with onions in them.

Insert
A parrot and Mauricio Barcelata display pictures of people who keep their hair neat to Pancho.
One such is picture is of Roosevelt Franklin.