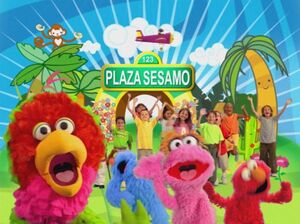 Picture
Segment
Description

SCENE
Manuel and Daniela help Lola make the bed.

Cartoon
A dinosaur tries to move around a rock.




Video
Gymnasts form a W, for Walter
(EKA: Episodio 858)

Cartoon
The detective sees a lever, and thinks about what might happen if he pulls the lever, being prepared for anything.

Muppets
The Rainbow Fish referee's a race between three seahorses.
(EKA: Episodio 884)

Cartoon
A boy demonstrates why his dog's name is Happy.
(EKA: Episodio 797)

Muppets
Before going to bed, Ernie prepares a long list of items he may need in the middle of the night. However, he covers his bed with so many things, there's no room for him to sleep, so he pushes Bert out of his bed.
(EKA: Episodio 894)

Cartoon
Bobby's dog narrates why Bobby is sad.
(EKA: Episodio 804)

Film
Kids tend to farm crops.
(EKA: Episodio 883)

Cartoon

Two viewers with Picassoesque facial features in an art gallery critically examine the portrait of a viewer.
Artist: Mo Willems
(EKA: Episodio 797)

Muppets
Pancho and Abelardo sing about persevering.

Animation
Three stripes form a jazz trio.
(EKA: Episodio 884)

Muppets
The Number of the Day: 3
The Count tells the viewers that when he counts sheep, the elephant will show up to reveal the number of the day, which, today, is 3.

Film
Ornate Ws spin around in accompaniment to a song.
(EKA: Episodio 881)

Song
"I'm Feeling Proud"
(EKA: Episodio 807)

Cartoon
Kids try to guess what a bunch of shapes will form; eventually they form a chicken. (green background)

SCENE
Since it's raining outside, Manuel, Daniela and Abelardo must wear their rain ponchos if they want to play. However, Abelardo has a hard time putting his on. Daniela helps him, but by the time he gets if, the rain has stopped.