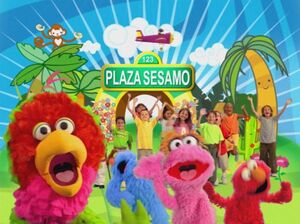 Picture
Segment
Description

SCENE
Susana, Pablo, Manuel, Daniela and Pancho get ready to take a drive.

Song
"Let's Go Tubbin' Today"
(EKA: Episodio 822)

Muppets
Bert missed the ice cream truck. Ernie offers to share his ice cream and runs home to get a bowl, while Bert holds his ice cream.
Part 1
(EKA: Episodio 856)

Animation
Abstract count to 13.
Artist: Sally Cruikshank
(EKA: Episodio 838)

Film
A girl narrates a segment about her friend, Billy, who swims with dolphins.

Muppets
Ernie hasn't returned yet, and the ice cream is starting to melt...
Part 2
(EKA: Episodio 856)

Song
"I'm Holding Your Hand" (while crossing the street)
(EKA: Episodio 873)

Cartoon
I for Iguana
(EKA: Episodio 867)

Film
A girl watches her father, a glassblower, at work.
(First: Episodio 878)

Animation
A showcase of how many fun things can be done with paper.

Film
A girl narrates a film of herself swimming.
(EKA: Episodio 882)

Animation
Shoes dance to a square dance tune.

Muppets
Bert is still waiting for Ernie, and eats the ice cream before it melts all over his arm.
Part 3
(EKA: Episodio 856)

Cartoon
Alien parents tuck their child in at night, and he counts 13 spaceships.
Artist: Bill Davis

Muppets
When Ernie returns, Bert has finished his ice cream and feels very sorry. But Ernie doesn't mind: the ice cream truck passed by the bus stop, so he bought a new cone for himself.
Part 4
(EKA: Episodio 856)

Cartoon
A man discuses the letter I.
(EKA: Episodio 889)

SCENE
Pancho has prepared a list of items he's bringing to the pool. Abelardo, Manuel, Daniela and a Multimuppet lifeguard borrow some of his items, leaving him with just his toy wheelbarrow.

Insert
Lola and a celebrity give a healthy tidbit.