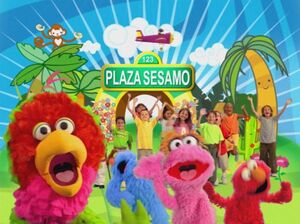 Picture
Segment
Description

SCENE
At the Plaza party, Lola and Daniela make salads that Señor Lechuga is not accustomed to.

Film
In a dreamlike sequence, a family discovers a huge letter O.
(First: Episodio 887)

Muppets
Snuffy, Alice, Elmo and Rosita play a pattern game with spaghetti and lettuce.
(EKA: Episodio 823)

Cartoon
It takes two kids two blow up a number 2.
(EKA: Episodio 734)




Video
Gymnasts form an O, for Olga.
(EKA: Episodio 809)

Muppets
News Flash: Kermit reports on The Big Bad Wolf's "Huffing and Puffing School".

Animation
Wooden shapes group themselves by color, then regroup by shape, then assemble themselves into a rocket ship.
(EKA: Episodio 735)

Animation
In stop-motion, sandwich ingredients square-dance in a ring and arrange themselves into a sandwich, which gets a bite taken out of it in a refrigerator.
(EKA: Episodio 818)

Muppets
The Number of the Day
Two tubas in tutus, tap dancing, show up after The Count learns that the number of the day is 2.
(First: Episodio 864)

Film
Lucia, who lives in Argentina, narrates a segment where she visits her abuelo's chocolate factory, where they make candy out of chocolate and mazapan.
(EKA: Episodio 738)

Animation
Colored tools build a house out of colored rectangles, squares and triangles.
(EKA: Episodio 732)

Muppets
The Squirrelles sing "Cracking Nuts".

Animation
Can you find the elephant in the painting?

SCENE
Pancho appears as a news reporter, covering the parade at the party.