Template:Plazaepisode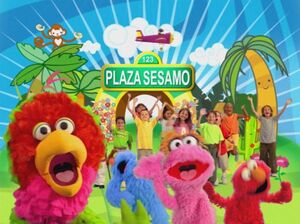 This episode guide is missing segments cut from Telefutura's broadcast.
Picture
Segment
Description

SCENE

Maria and the gang sing "The People In Your Neighborhood" about a postman and firemonster.




Video

Gymnasts form a D, for Daniel.
(EKA: Episodio 428)

Cartoon

Young Chris Columbus explores the world of ants - and they, in turn, explore his house.
Artist: ArtistMike

Film

Kids paint a huge mural about the number 19.

Film

A boy named Anthony and his parents are trapeze artists in a circus.

Cartoon

D for Dragon
Artist: Oscar González Loyo

Muppets

Cookie Monster and Herry sing "Circles".
(EKA: Episodio 315)

Animation

A sphere floats in space.

Film

A girl learns how to use a loom.

Muppets

The Two-Headed Monster looks at different shapes.

Film

Looking for shapes in a metal junkyard
(EKA: Episodio 430)

Muppets

An Anything Muppet man holds up pictures and asks the view to find a square in each of them. Cookie Monster soon joins him when the man shows a picture of a cookie box, which Cookie Monster believes has cookies in it.
(EKA: Episodio 435)

Animation

Number creatures #19
(EKA: Episodio 438)

Muppets

A Multimuppet lady named Doris and a Multimonstruo named David show various things that start with D, all of which fall on David.
Community content is available under
CC-BY-SA
unless otherwise noted.