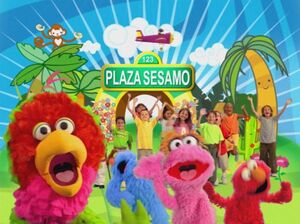 Picture
Segment
Description

SCENE
Pancho, Lola and friends sing "Igualitos."

Cartoon
Speech Balloon: A for Abierto (open)
(EKA: Episodio 863)

Muppets
Ernie and Bert: Ernie keeps catching fish, and Bert doesn't, so Ernie tries moving to a different place on the boat, then not using bait, then just quitting. When Bert finally catches something, it is only a note that reads: "What happened to your friend?"
(EKA: Episodio 899)

Animation
A piece of paper floats down onto a table, then folds itself into a paper crane, which flies away.
(EKA: Episodio 893)

Film / Cartoon
A girl draws a boy without a mouth.

Cartoon
A beaver does his exercises, while his friends make fun of him. He then uses his strength to save his friends when the dam breaks.
Artist: Irra Verbitsky
(EKA: Episodio 830)

Muppets
The Number of the Day: 1
After practicing a few times, the Count hits an organ key, and the number is one. One elephant appears.
(First: Episodio 869)

Cartoon
A man tries to carve a sculpture of George Washington, but is material cracks, forcing him to change it several times. He ends up using the remaining parts to make a paperweight for his plans.
(EKA: Episodio 895)

Film
A girl and his father spruce up an old bus.
(EKA: Episodio 879)

Animation
The letter A in various typefaces.
(EKA: Episodio 863)




Muppets
Prairie Dawn reports for "Fairy Tales Today" and goes to the park where a large braid of hair is all over the place, causing various people to trip on it. Rapunzel gets her hair stuck and can't break free, until a bystander brings up the idea of a haircut. (new title card added)
(EKA: Episodio 748)

Animation
The number 1 in various typefaces.
(EKA: Episodio 863)

SCENE
Los Monstruos También Lloran
Ernesto Laguardia and Lola are playing soccer in the kitchen, when Ernesto Laguardia hits the ball with his head and it hits Abuela's cake. They are afraid that La Abuela would be mad at them. When La Abuela arrives, she is shocked at the cake and starts to cry. She scolds Ernesto and Lola and told them not to play ball in the house. Ernesto and Lola tried to make it up by making the cake again for her. After making the cake, they both promise to Abuela that they would never play ball in the house again.

Closing
Ernesto helps Abelardo fight his temptation of an unhealthy cake.