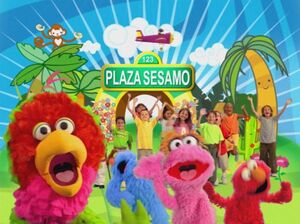 Picture
Segment
Description

SCENE
Abelardo tries to cheer up the new girl, who is homesick for Argentina.

Animation
A white pipe-cleaner family is wary of their new green neighbors. When they see the two babies playing together, they warm up to each other.

Film
A big F emerges, "Jaws"-like, in a swimming pool.
(EKA: Episodio 882)

Cartoon
Funny 4
(EKA: Episodio 802)




Muppets
Baby Bear comes back with another red crayon, but notices that Elmo is wearing a doctor's outfit. He's wearing them because he wants to be a doctor when he grows up, and he wants to be drawn that way now (he got the props while Baby Bear was getting the crayon). Once again, Elmo changes his mind at the last second, and runs off. He comes back dressed as a fireman, then changes his mind again and decides to be drawn as himself. Baby Bear gives up, not believing Elmo will hold still.
(EKA: Episodio 731)
Taken from episode 3410 of Sesame Street.

Cartoon
Monsters have a "fiesta" (party).
Artist: Oscar González Loyo
(EKA: Episodio 807)

Film
Gilberto, who lives in Central America, learns how bricks are made.

Cartoon
Lady Marple-Bug solves "The Case of the Four Flyers" by identifying the bird as the one that didn't fit in amongst the group of butterflies.
(EKA: Episodio 861)

Muppets
"We Are All Earthlings"
(EKA: Episodio 824)

Cartoon
The letter F becomes the legs of a flamingo.
(EKA: Episodio 882)

Film
Island (in sped-up film, kids travel to an island)
(EKA: Episodio 861)

Cartoon
Gloria Globe sings "I Am the World", naming the countries that correspond with her body parts.

SCENE
Carlos Loret de Mola interviews Pancho.

Insert
Leticia Calderon and a baby monster explain the importance of milk.