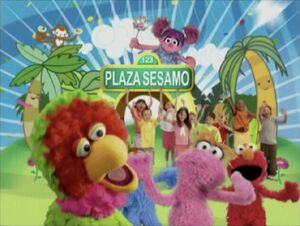 Picture
Segment
Description

COLD OPEN
Lola wonders what the word of the day could be, when her friends give her "una sorpresa" (surprise).

SCENE
Abelardo introduces Pancho (as The Great Panchini), who "magically" mixes colors to make new ones. When his secret is revealed by Abelardo, the crowd comes onstage and starts making their own colors, forcing Pancho out of the act.

Animation
A magician shows in and out with a robot.

Muppets
Lola presents the letter S, then display the "sol" (sun).

Song
"I'm Feeling Proud"
(EKA: Episodio 807)

Cartoon
Bobby's dog narrates why Bobby is sad.
(EKA: Episodio 804)

Muppets
The Number of the Day: 8
Eight bats show up when The Count reveals that 8 is the number of the day.
(First: Episodio 876)

Song
"It's All Right to Cry"
(EKA: Episodio 733)

Animation
Airplanes carve the capital and lowercase S.
(EKA: Episodio 739)




Video
Gymnasts form an S, for Silvia.
(EKA: Episodio 813)

SCENE
Susana, Pancho and Lola meet a snake charmer who makes the sound of the letter S, helping his pet snake learn it.

Cartoon
Noodles and Nedd play shadow games indoors with a flashlight, and outdoors.
(EKA: Episodio 887)

Film
Kid jungle explorers sight a wild letter S.
(EKA: Episodio 813)

Cartoon
Shadows of kids play basketball and invite a stranger to join them.

Song
"Si Estas Feliz"
(EKA: Episodio 750)

Cartoon
A cat learns not to be scared of its shadow.
(EKA: Episodio 887)

Muppets
Telly explains to the viewer what a surprise is and plans to perform one on Elmo. However, Elmo listens in on his plan and beats him to the punch.

Cartoon
"Captain Spacey" counts 8 planets until the 25-cent rocket machine runs out of juice.
(EKA: Episodio 866)

Muppets / Film
Pancho Visión
Pancho presents a film of a boy hiding in a magician's dressing room.

Animation
A magician shows in and out with a horse.

Film
A girl talks about painting.
(EKA: Episodio 796)

Muppets
Lola and the kids sing about surprises.
Notes