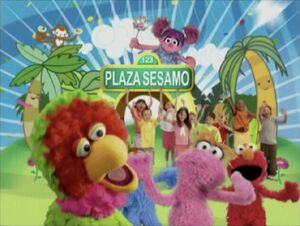 Picture
Segment
Description

COLD OPEN
Resting in a hammock, Lola gives clues about the "sol" (sun).

SCENE
Daniela and Lola are making a mural of outer space. Pancho appears, claiming to know a lot about space (having previously paid a visit). Suddenly, an "alien" appears behind him, frightening Pancho to beneath the table. The being takes off the mask and is revealed to be a Multimuppet boy, who wants to help out.

Cartoon
How Andy Fritz Ate the Sun.
Artist: ArtistMike

Film
Counting 5 kids on a park bench.

Muppets
Lola introduces the letter T, then displays a "taza" (cup).

Cartoon
The Bridgekeeper deals with a man with circles.

Muppets
The Rainbow Fish counts groups of 5 in the ocean.
(EKA: Episodio 892)

Film
Cheri goes fishing with her abuelo.
(EKA: Episodio 899)

Cartoon
Fish form capital and lowercase T's.
(EKA: Episodio 733)

SCENE
Abelardo joins Susana and Manuel in watching the stars through a telescope, which they try to count. They spot a shooting star, which turns out to be the Barón Púrpura landing.

Film
A girl asks her audience of kids what provides light at night. The answer: the stars!

Cartoon
A girl explains the concept of relativity by explaining how her house is a part of a neighborhood, the neighborhood is part of a city, the city is part of a country, etc.
(EKA: Episodio 842)

Film
Kids explore and swim in a creek.
(EKA: Episodio 801)

Muppets
The Number of the Day: 5
5 bats fly in after 5 is announced to be the number of the day, and The Count offers them cake.
(First: Episodio 922)

Film
The floating kids form a T.
(EKA: Episodio 820)

Film / Animation
Circles of all kinds are displayed as funky rap music plays.
(EKA: Episodio 800)

Muppets / Film
Pancho Visión
Pancho introduces a film of a class field trip, where the kids ride in boats.
Film only: (EKA: Episodio 862)
Pancho does not announce the segment when the title card appears

Film
A soccer player bounces a ball 5 times.
(EKA: Episodio 816)

Cartoon
A boy spies several shapes through his "binoculars" (his hands).
(EKA: Episodio 805)

Insert
The plaza residents sit out star-gazing and sing about playing with the stars.