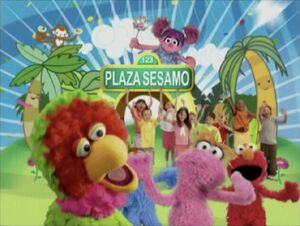 Picture
Segment
Description

COLD OPEN
Lola gives clues as to what she's riding on (a see-saw).

SCENE
Pancho wants to ride the slide with Manuel and Daniela, but they're always at the opposite end of him.

Animation
A demonstration of up and down with a girl and a circus elephant.

Muppets
Lola presents the letter A, for "arbol" (tree).

Animation
Cecille sings "Up Down, In Out, Over and Under."
(EKA: Episodio 816)

Film
Four Chinese acrobats do stunts with giant spools.

Muppets
Big Bird watches Elmo hang up high and down low.

Cartoon
A man buys flowers for his wife and drives his car over and under things to get them to her.

SCENE
Alan Galan hosts "The Sound of the Letter A" with contestant, Cuernos. He needs to find three things that start with the letter A. He brings Abelardo twice: once for his name and the fact that he's an "amigo" (friend). He then returns with a jar of "miel" (honey), which attracts "abejas" (bees).

Cartoon
Pencil box A/a
(EKA: Episodio 796)

Celebrity
The Count counts the musicians in the Tokyo String Quartet.

Muppets
The Number of the Day: 4
Four Honkers (including Mr. Honker) show up after learning that the number of the day is 4.

Cartoon
A man takes a wild ride on a roller coaster.
¡Otra vez en inglés! The segment then replays in English.

Film
A farm boy goes to school, later using the English words he learned in school to identify the various parts of nature.

Cartoon
Four painters
(EKA: Episodio 741)

Muppets / Film
Pancho Vision
Pancho shows a film of a girl who helps her beekeeper dad.

Cartoon
A for Abeja
Artist: Oscar González Loyo

Insert
Abelardo and the kids sing "Es La A," a song about the letter A.
Notes
When aired on V-me, the song "Siéntate" is added between the Elmo sketch and the flower cartoon.