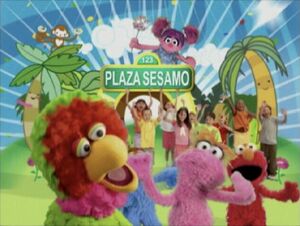 Picture
Segment
Description

COLD OPEN
Abelardo gives clues about a pear.

SCENE

Cociando con Verduberto


Verduberto asks Carlo to group together the oranges and broccoli, which he can differentiate by color. When he finds a watermelon, he can't tell how to organize it, so he eats it.

Animation
Plastic music instruments line up and play a tune.

Muppets
Abelardo introduces the letter A, for Abelardo!

Cartoon
A squirrel heads for her "arbol", but finds it doesn't exist. She asks the animator to draw her one.
Artist: Oscar González Loyo
(EKA: Episodio 744)

Film
A song about eating over footage of babies eating.
(EKA: Episodio 823)

Cartoon
Agui Aguillita wants you to remember to conserve water.
(EKA: Episodio 750)

SCENE
Pancho has trouble ordering a simple glass of water from his troublesome waiter (

Polo Ortín

).

Cartoon
Lady Marple-Bug solves "The Case of the Four Flyers" by identifying the bird as the one that didn't fit in amongst the group of butterflies.
(EKA: Episodio 861)

Muppets
Theater in the Park: "The Grapes of Math"
Elmo and a boy add their grapes, totaling to 7.
(EKA: Episodio 847)

Cartoon
A man blows 7 bubbles.
(EKA: Episodio 822)

Muppets
The Number of the Day: 7
Seven dancing chickens show up for the number of the day.
(First: Episodio 872)

Cartoon
7 kids build a 7.
(EKA: Episodio 867)

Muppets / Film
Pancho Visión
Pancho presents a home movie of a boy who travels around to see the many kinds of breakfasts.
Film only: (First: Episodio 877)

Cartoon
Fruta Manzana sings about being healthy.
Artist: Irra Verbitsky
(EKA: Episodio 839)

Film
Wegman's dogs form a letter A.

Insert
Maria sings "El Maíz" to Abelardo.