Plaza Sésamo
Plot
Lola and Pancho in Columbia (part 2)
Air date
2008
Season
11
Sponsors
T, 2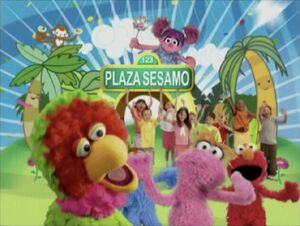 Picture
Segment
Description

COLD OPEN
Abelardo gives clues about grapes.

SCENE
Pancho and Lola visit a Colombian market and their friends help them get fruit to bring back home. They then try some fruit juice, which gives them the energy to run to another market.

Animation
When a boy runs, his heart runs too.

Muppets
Lola introduces the letter T, then displays a "taza" (cup).
(First: Episodio 929)

Cartoon
A T becomes the design on a "tortuga"'s (turtle's) shell.
(EKA: Episodio 875)

Animation
Playing cards form the letter T; the jack and queen tango.
(EKA: Episodio 900)

Cartoon
Noodles & Nedd
Nedd shows Noodles how to do a particular dance.
Artist: John R. Dilworth

SCENE
Having been running awhile, everyone is tired and needs rest, except Pancho, who insits they keep going. After they rest, Pancho takes a turn napping.

Animation
Spinning T (to the tango beat).
(EKA: Episodio 875)

Muppets
Elmo explains the importance of sleep, but the audience won't stop applauding and let him sleep afterwards.
(EKA: Episodio 733)

Film
A girl and her family partake in many healthy activites.

Muppets
The Number of the Day
Two tubas in tutus, tap dancing, show up after The Count learns that the number of the day is 2.
(First: Episodio 864)

Song
"2, 2, 2, Me and You"

Muppets / Film
Pancho Visión
Pancho shows a film of a boy who talks about the various things at a festival.

Film
A voiceover subtracts from five to four to two children on a park bench.
(EKA: Episodio 935)

Muppets
Abelardo, Lola and Pancho sing about the things you can find at the market.