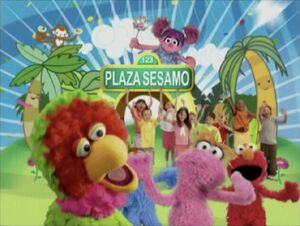 Picture
Segment
Description

COLD OPEN
Lola shows the word of the day: Libro (book)

SCENE
Pancho and Lola gather the kids to tell their own version of "Little Red Riding Hood", where he cape changes color and visits the house of The Three Little Pigs, which is then visited by Elefancio.

Cartoon
While waiting for the bus on a cold winter day, a girl imagines her frozen breath as things, including the bus that takes her to school.
(First: Episodio 931)

Muppets
Lola presents the letter J, for Jabon (soap)

Film
Ornate 19s fly through the air, and collections of 19 objects are found throughout a yard.

Animation
A boy's imagination runs away with him as he reads.
(EKA: Episodio 814)

SCENE
Everyone celebrates La Abuela's birthday and dance the San Joracho.

Cartoon
J for Jabon (soap)
(EKA: Episodio 811)

Film
A mother makes a dance outfit for her daughter.
(EKA: Episodio 742)

Muppets
Telly notices that the book Zoe reads is old-looking and worn. He learns that it's damaged because Zoe loves it so much, regardless of how damaged it is.

Animation
The number 19 in space

Muppets / Film
Pancho Visión
Pancho shows a film (this time via his cellphone) about a girl in Veracruz who makes a net.

Cartoon
Cats wear their raincoats before going out into the rain.




Film
A montage of the evolution of mechanical technology, from wind-up toys, to robots that can spell with blocks, to satellite transmitters.
Music: Joe Raposo
(EKA: Episodio 845)

Cartoon
A girl imagines having a pet manatee.

Insert
Pancho sings a song to some kids about the importance of reading.
Community content is available under
CC-BY-SA
unless otherwise noted.