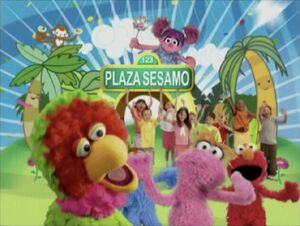 Picture
Segment
Description

COLD OPEN
Lola plays a guessing game about "un huevo" (an egg).

SCENE
Susana prepares a healthy breakfast for her family and convinces visiting Abelardo, Pancho, Don Boni and La Abuela to stay and eat too.

Cartoon
Superkid brushes his hair.
(EKA: Episodio 811)

Muppets
Lola introduces the letter L, which starts her own name!

Cartoon
Fruta Manzana sings about being healthy.
Artist: Irra Verbitsky
(EKA: Episodio 839)

Film
Wegman dogs: Four in a thea-tor
(EKA: Episodio 939)

Animation
In stop-motion, sandwich ingredients square-dance in a ring and arrange themselves into a sandwich, which gets a bite taken out of it in a refrigerator.
(EKA: Episodio 818)

SCENE
A Multimonstruo waits for Manuel to arrive and play. However, when Manuel shows up, he is covered in dirt. The monster doesn't recognize him, since Manuel is always clean. Manuel washes himself up and comes back to find the rest of the kids are getting messy with paint.

Animation
Animals take baths.

Film
A girl and his father spruce up an old bus.
(EKA: Episodio 879)

Muppets
Grover, your moving and grooving monster, dances to the song, "Jump". Afterwards, he tries to rest, until Ernie, Bert and Prairie Dawn hop in and Ernie starts a game of "Ernie Says", commanding everyone to jump!
Taken from Play with Me Sesame
(First: Episodio 928)

Cartoon
The Ringmaster presents four lions.
(EKA: Episodio 826)

Muppets / Film
Pancho Visión
Pancho presents of film of a class of Navajo kids who use art to describe their families, or clans.
Film only: (EKA: Episodio 908)

Cartoon
L for Luna - A astrologist spies the word "luna" in the sky.
(EKA: Episodio 845)

Insert
Lola helps a girl overcome her fear of taking a bath. She and the rest of the cast then sing about bathing.