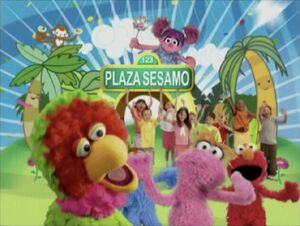 This episode guide is missing segments cut from Telefutura's broadcast.
Picture
Segment
Description

COLD OPEN
Pancho is trying to find Abelardo's shoe in his house, when Elefancio drops it on Pancho's head. The word of the day is zapato.

SCENE
Abelardo and Lola accompany Manuel on his trip to the doctor's office.

Cartoon
A man in voiceover asks where elephants are usually found.

Muppets
Abelardo presents the letter D, for "dado" (dice).
(EKA: Episodio 942)

Animation
D / d (space paint)
(EKA: Episodio 740)

Song
"Dancin' Shoes"

Film
"Great Moments at the Sink" presents mud-pie champion Sasha Smith washing her hands.

SCENE
Modesto Microfono interviews an athlete named Mauricio Tap (played by Mauricio Salas), who exercises by tap dancing.

Cartoon
"Dancing with the Flowers"
(First: Episodio 938)

Muppets
The Rainbow Fish referee's a race between three seahorses.
(EKA: Episodio 884)

Animation
Where do the Ds fit?

Muppets
Elmo and his imaginary self sing about what he would do "If Elmo Had Teeth".




Video
Gymnasts form a D, for Daniel.
(EKA: Episodio 823)

Muppets / Film
Pancho Vision
Pancho presents a film about a farm boy who gets a check up from home.

Cartoon
Three stripes form a jazz trio.
(EKA: Episodio 884)

Film
Three Wegman dogs are arranged in different ways.

Muppets
Abelardo sings a mariachii song about the doctor's office.