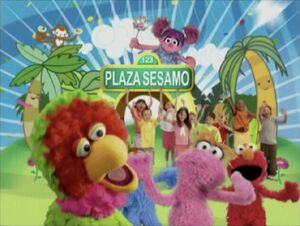 Picture
Segment
Description

COLD OPEN
Abelardo's guessing game today is about "los ojos" (the eyes).

SCENE
Daniela, Lola, Abelardo and a monster play hide-and-seek. Abelardo chooses the same hiding spot as Lola and refuses to move. Lola thinks of a good hiding spot – behind Abelardo.

Cartoon
An L becomes the mane of a "leon" (lion).
(EKA: Episodio 866)

Muppets
Lola introduces the letter L, which starts her own name!
(First: Episodio 949)

Cartoon
Alice Kadeezenberry has a hard time figuring out how to get around a mud puddle without getting dirty.
Artist: Paul Fierlinger
(EKA: Episodio 895)

Film
Neighborhood kids play hide-and-seek.
(EKA: Episodio 777)

Cartoon
A yellow boy creature visits a music store.
(EKA: Episodio 804)

SCENE
The gang raps about school.

Cartoon
Global Thingy
Everyone sings out of tune until the globe teaches them to sing in harmony.

Film
A Wegman dog sits on one end of a see-saw, while someone adds things to the other side.

Cartoon
Underwater, there's a 9
(EKA: Episodio 750)

Muppets / Film
Pancho Visión
Pancho runs a film of a family going scuba diving.

Film
Kids play rhythms on pots, pans, a barrel and a washboard.
(EKA: Episodio 905)

Muppets
Grover finds Elmo upset over his broken toy, so he tries to cheer Elmo up with his own toy and an apple. When he fails to help, Elmo gets something that cheers him up - a hug from Grover.