Plaza Sésamo
Plot
Abelardo looks for 4
Air date
2008
Season
11
Sponsors
N, 4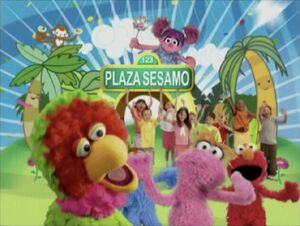 This episode guide is missing segments cut from Telefutura's broadcast.
Picture
Segment
Description

Muppets
Today, Abby Cadabby is going to turn one ball into four balls. However, her trick goes awry and the ball disappears instead.

Cartoon
Four painters
(EKA: Episodio 741)

Film
Ornate 4s fly through the air.
(EKA: Episodio 802)

Muppets
Abby tries her trick again, but makes it rain balls in her room.

Cartoon
Insect countdown 1- 10

Muppets
Abby performers her trick one last time, and successfully makes 4 balls appear, including one that can talk.

Animation
Animals take baths.
(First: Episodio 949)

SCENE
Abelardo looks for the number four. It's not on the door, but it is on the clock as Pancho points out, but that's not the one he's looking for. A talking number four appears to play with Abelardo.

Film
The floating kids make an N.
(EKA: Episodio 806)

Muppets
Pancho presents the letter N, for "nariz" (nose).

Animation
Computer N / n

Song
"Lavarse los Dientes"
(EKA: Episodio 740)

Muppets
Ernie has a plan to help him sleep - counting backwards from 10. Once he finishes his countdown, Bert thinks he's fallen asleep, but Ernie claims it didn't work. He then tries counting backwards from 40.
(EKA: Episodio 798)

Animation
Various people brush their teeth to a classical piece of music.
(EKA: Episodio 801)

Muppets
Big Bird talks about brushing teeth, but since he has none, he uses a horse's teeth instead.
(EKA: Episodio 822)

Cartoon
Some yucky little teeth sing praise of "Mr. Toothbrush," who brushes them.
Artist: ArtistMike
(EKA: Episodio 740)

Film
Great Moments at the Sink
Timothy brushes his teeth, accompanied by sports narration. A 10.0 sink bowl!
(EKA: Episodio 933)

Muppets
A Multimonstruo princess in her tower is told by her magic mirror to brush her teeth. The prince (Julio Bracho) arrives to take her to the ball, but not before he brushes his teeth.