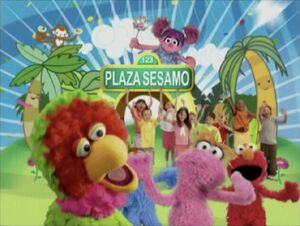 This episode guide is missing segments cut from Telefutura's broadcast.
Picture
Segment
Description

COLD OPEN
Pancho is trying to find Abelardo's shoe in his house, when Elefancio drops it on Pancho's head. The word of the day is zapato.
(First: Episodio 950)

SCENE
Lola Aventuras
Lola's hot air balloon dumps her off in Colombia's Botanical Garden, where some kids plant flowers.

Cartoon
Two animals make music from whacking coconuts (and a turtle).

Muppets
Lola shows the letter J, for "jabon" (soap).

Animation
Clown Honking #11




Video
Gymnasts form a J, for Jose.
(EKA: Episodio 842)

Animation
A clay animation of Russian, Arabian, and South American scenes.
(EKA: Episodio 955)

SCENE
Susana, Daniela and Lola are about to cross the street, when a Multimuppet show them the crosswalk he's just painted. The Barón Púrpura flies past, but stops at the new cross walk to let them cross.

Song
"I'm Holding Your Hand" (while crossing the street)
(EKA: Episodio 873)

Cartoon
A J becomes the neck of a "jirafa" (giraffe).
(EKA: Episodio 885)

Muppets
Elmo can't reach any apples in an apple tree, so Super Grover tries to help, first by telling the apples to come down, and then by shaking the tree. Eventually, Elmo finds a stick that he can knock an apple down with.
(First: Episodio 961)

Animation
Musical showcase: "The Blue Danube", African tribal music and city jazz

Muppets / Film
Pancho Visión
Pancho presents a film of how a flute is made.
Film only: (EKA: Episodio 796)

Animation
A stop-light robot follows his own signals.
(EKA: Episodio 873)

Muppets
The Number of the Day: 11
Balloons and confetti show up after The Count learns that the number of the day is 11.

Film
A mom takes her son for a walk in the stroller, and he sees all he can see.
(EKA: Episodio 953)

Film
On his way home from school, a boy hears various noises.
(EKA: Episodio 872)

Muppets
Abelardo, Pancho, Lola and some kids sing about the bus.