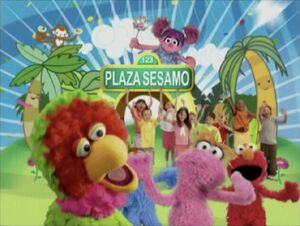 This episode guide is missing segments cut from Telefutura's broadcast.
Picture
Segment
Description

Muppets
Today, Abby Cadabby is going to turn one ball into four balls. However, her trick goes awry and the ball disappears instead.
(EKA: Episodio 965)

Animation
Masked march #18
(EKA: Episodio 943)

Muppets
Abby tries her trick again, but makes it rain balls in her room.
(EKA: Episodio 965)

Animation
A child plays fetch with her dog, who eventually brings her a whole wagon of balls so he doesn't run back-and-forth so much.

Muppets
Abby performers her trick one last time, and successfully makes 4 balls appear, including one that can talk.
(EKA: Episodio 965)

Film
Kid mural painting #18

SCENE
Pancho brings in a Multimuppet singer to "cantar" (to sing) at La Abuela's birthday party. When he begins his act, he counts ("contar") to 10. They clear up the confusion between the two words and he begins counting to mambo music.

Animation
The number 18 in space.
(EKA: Episodio 943)

Muppets
Abelardo presents the letter D, for "dado" (dice).
(EKA: Episodio 942)

Cartoon
D for Dragon
Artist: Oscar González Loyo
(EKA: Episodio 908)

Muppets
Bert is having trouble getting to sleep. Ernie suggests him singing a lullaby to Bert. He sings one to the tune of Brahms' Lullaby and Bert falls into a deep peaceful sleep. Ernie tells Bert to wake up now; it's his turn to go to sleep so it's HIS turn to sing a lullaby now.
(EKA: Episodio 810)

Cartoon
An alien crashes on Earth and uses a "telefono" (telephone) to get help.
Artist: Oscar Gonzalez Loyo
(EKA: Episodio 733)

Muppets
The Number of the Day: 18, song with Count von Count and The Countess.
(First: Episodio 882)

Cartoon
Number Creatures #18
(EKA: Episodio 757)

Film
The people of an island village collect trash from the seashore for a trash collection boat.
(First: Episodio 931)

Cartoon
A lowercase B looks in the mirror and sees a lowercase D.
(EKA: Episodio 879)

Film
18 glasses, 18 chairs, 18 socks

Cartoon
Two dinosaurs cooperate to get some coconuts from a tree.

SCENE
Pablo shows a Multimonstruo how to use his telephone properly, instead of as a backscratcher.