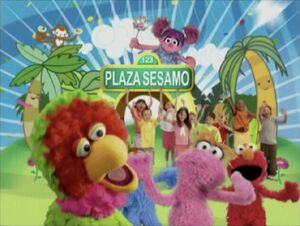 This episode guide is missing segments cut from Telefutura's broadcast.
Picture
Segment
Description

SCENE
Pancho wants a triangle-shaped window shade for his window, but the delivery-monster can't get the right shape.

Animation
A stack of blocks arranges itself in conjunction with another stack.
(EKA: Episodio 951)

Muppets
Pancho presents the letter A, for "arbol" (tree).
(First: Episodio 953)

Cartoon
Pencil box A/a
(EKA: Episodio 796)

Film
Five girls play a clapping game.

Muppets
Elmo sings about how much he loves going "Round and Round in Circles" ... until he gets dizzy.

Animation
A circle floats in space.
(EKA: Episodio 919)

SCENE
Abelardo watches as Pablo and Daniela hang up signs around the plaza, asking people to pick up the mess their dogs make. The same rule applies to Elefancio (to Pancho's dismay).

Cartoon
A boy spies several shapes through his "binoculars" (his hands).
(EKA: Episodio 805)

Insert
Abelardo and the kids sing "Es La A," a song about the letter A.
(EKA: Episodio 930)

Film
Kid mural painting #15
(EKA: Episodio 889)

Animation
"Cua Cua Drado"
(EKA: Episodio 830)

Muppets
Elmo, Telly and Zoe want to show "between" by having Elmo appear between the other two. However, the never get in the right order and are forced to run around and switch place.

Animation
Pancho whacks a pinata 15 times. (Uses raw footage from the theme song).

Muppets / Film
Pancho Visión
Pancho presents a film of a girl and her father, a glassblower.
Film only: (First: Episodio 878)

Film
Growing Numbers #15
(EKA: Episodio 746)

Film
T for Triangle

Cartoon
Abstract count to 15
(EKA: Episodio 865)

Muppets
Lola and the kids sing about wheels and other round things.