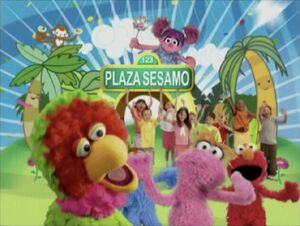 This episode guide is missing segments cut from Telefutura's broadcast.
Picture
Segment
Description

Muppets
Today, Abby Cadabby is going to turn one ball into four balls. However, her trick goes awry and the ball disappears instead.
(EKA: Episodio 965)

Animation
A clay figure paints a picture of a flower.
(EKA: Episodio 946)

Muppets
Abby tries her trick again, but makes it rain balls in her room.
(EKA: Episodio 965)

Film
A child explains that he can paint anything.
(EKA: Episodio 829)

Muppets
Abby performers her trick one last time, and successfully makes 4 balls appear, including one that can talk.
(EKA: Episodio 965)

Cartoon
People paint a mural of a field landscape.
(EKA: Episodio 863)

Muppets
Pancho presents the letter O, for "ojo" (eye).

Animation
An "oruga" becomes a butterfly.
(EKA: Episodio 869)

SCENE
Lola and Daniela help the Barón Púrpura convert his plane into a work of art by painting it.

Cartoon
"Moonshine"
(EKA: Episodio 845)

Muppets
Big Bird shows that the letter O is the same upside-down.
(EKA: Episodio 860)

Cartoon
Sixteen pigs form various acrobatic pyramids.
(First: Episodio 971)

Muppets
Grover sells newspapers in the street. He thinks they are for making paper hats, but a customer shows him they are actually for reading. The customer wants to buy a newspaper, but Grover won't stop reading the paper that the customer wants to buy. Grover reads about construction of a new building, a parade, and an expected rain shower, all of which occur as Grover reads.

Cartoon
Noodles & Nedd
Noodles accidentally breaks Nedd's toy airplane, but Nedd glues it back together, and all is forgiven.

Muppets
"Sixteen Samba"
(EKA: Episodio 851)

Cartoon
A man demonstrates what newspapers are made of, and finds an ad for "One slightly used monster."

SCENE
While Pancho tries to read his newspaper, Lola bothers him and questions what newspapers are. Now loving them, she dashes off, leaving Pancho alone. She returns as a newspaper sales-monster, yelling out the headlines, much to Pancho's dismay.