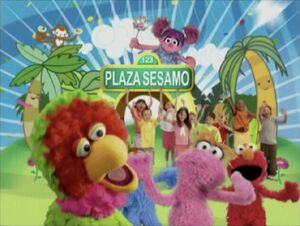 This episode guide is missing segments cut from Telefutura's broadcast.
Picture
Segment
Description

SCENE
Maria, Daniela and Lola count the bubbles they blow. Daniela blows a large one that engulfs Lola and begins to send her skyward.

Cartoon
A boy shares his bubbles with some kids dancing in a field.
(EKA: Episodio 750)

Muppets
Abelardo presents the letter F, then a "foco" (lightbulb).
(First: Episodio 934)

Cartoon
The letter F becomes the legs of a flamingo.
(EKA: Episodio 882)

Film
Wegman dogs show in and out with a pool.
(EKA: Episodio 941)

Muppets
Dr. Nobel Price shows Oscar his newest invention - a tiny trash can with a surprise inside. After many guesses, Oscar opens the can, which unleashes balloons, confetti and party music (much to his disgust).
(EKA: Episodio 925)

Animation
Number creatures #19
(EKA: Episodio 833)

Film
Kids paint a huge mural about the number 19.
(EKA: Episodio 900)

Cartoon
Monsters have a "fiesta" (party).
Artist: Oscar González Loyo
(EKA: Episodio 807)

SCENE
Today is Daniela's birthday and Susana has set up the various party supplies each guest will need - a plate, a hat and a cup. Pancho has called ahead, saying he will not be able to attend. When the party begins, he arrives anyhow, but there is not an extra hat for him, so he is forced to wear a cup on his head.

Muppets
Kingston Livingston III sings about his birthday party, but all of his friends are outside the house, while the party is inside.
(EKA: Episodio 747)

Cartoon
Animals on a Ferris wheel say "Hola!"
(First: Episodio 941)

Song
"I'm Feeling Proud"
(EKA: Episodio 807)

Animation
The number 19 in space
(EKA: Episodio 944)

Song
"It's Fido's Birthday" - a song about a birthday party for a goldfish.

Muppets / Film
Pancho Visión
Pancho presents a film of Danny, a boy with Down syndrome, who has a birthday party.
Film only: (EKA: Episodio 807)

Cartoon
Lapicito draws an F.
(EKA: Episodio 807)

Muppets
Kingston Livingston III sings "A Cat Had a Birthday."