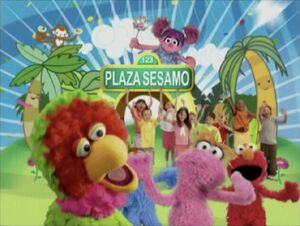 This episode guide is missing segments cut from Telefutura's broadcast.
Picture
Segment
Description




Muppets
Today, Abby Cadabby is going to make an apple large. However, her magic trick causes herself to shrink to the size of the apple.
(First: Episodio 961)

Animation
Black and white clothes arrange themselves in different ways, and finally end up on a boy and a girl.

Muppets
Abby tries her trick again, instead making herself huge. After she returns to normal size, she then calls her mom for help.
(First: Episodio 961)

Cartoon
An elephant, a zebra, a hedgehog, an ostrich, a frog and a ladybug create a rhythm with their footsteps.
Artist: Karen Aqua

Muppets
Abby tries her trick one last time. With a wave of her wand, she makes the apple large, complete with a giant, apple-hungry worm.
(First: Episodio 961)

Cartoon
Babies and doggies pattern: What comes next?
Artist: Keith Haring
(EKA: Episodio 815)

Muppets
Pancho presents the letter R, for "rana" (frog).

Cartoon
Two lowercase Rs become the legs of a "rinoceronte" (rhinoceros).
(EKA: Episodio 865)




SCENE
Pancho hires a Multimonstruo to install a new wall mold for his house. He shows him the pattern he wants the shapes to be: an onion, a cello and a triangle. However, when the monster runs out of triangles, he uses one of his triangular horns in its place. He assures Pancho it's just a baby horn; it'll grow back.

Muppets
20 Faces (including kids, Mulimuppets and Multimonstruos)
(EKA: Episodio 748)

Muppets
Snuffy, Alice, Elmo and Rosita play a pattern game with spaghetti and lettuce.
(EKA: Episodio 823)

Film
The floating kids form a triangle.
(EKA: Episodio 805)

Muppets
While taking a trip down Memory Lane, Cookie Monster sings "The First Time Me Eat Cookie."
(First: Episodio 948)

Cartoon
A caveman invents the "rueda". (wheel)
(EKA: Episodio 859)

Muppets
Ernie and Ernestine play "Ernestine Says".
Taken from Play with Me Sesame

Cartoon
Four hands are needed to count to 20.
(EKA: Episodio 945)




SCENE
A rabbit magician shows Abelardo a magic trick where he puts a 3 and a 1 in his hat and pulls out a 4. This leads into a 50s-style rock song performed by Pancho about counting to 4.