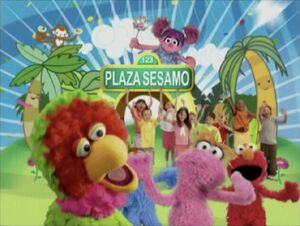 This episode guide is missing segments cut from Telefutura's broadcast.
Picture
Segment
Description

COLD OPEN
Riddle of the Day: Lemon

Muppets
Today, Abby Cadabby is going to turn one ball into four balls. However, her trick goes awry and the ball disappears instead.
(First: Episodio 965)

Cartoon

Muppets
Abby tries her trick again, but makes it rain balls in her room.
(First: Episodio 965)

Cartoon
Suzie Kabloozie reads about pirates.
Artist: Mo Willems
(EKA: Episodio 824)

Muppets
Abby performers her trick one last time, and successfully makes 4 balls appear, including one that can talk.
(First: Episodio 965)

Cartoon
A peasant tries to woo a pretty girl by reciting the famous "Roses are Red" poem. The lines are fed to him by a poet behind a bush, whom the girl eventually runs off with.
Artist: Irra Verbitsky
(EKA: Episodio 804)

Muppets
Abelardo introduces the letter R, for "rana" (frog).

Animation
Crumpled paper R / r
(EKA: Episodio 814)

SCENE
Pancho and Lola eat out, but their waiters (Polo Ortín and a Multimuppet) can't seem to remember which door the enter and exit from. The monsters demonstrate and are asked to bring them a fruit meal while they're in the kitchen.

Cartoon
A man talks about "la salida" (the exit).

Muppets
Telly notices that the book Zoe reads is old-looking and worn. He learns that it's damaged because Zoe loves it so much, regardless of how damaged it is.
(First: Episodio 944)

Film
Wegman dogs ride canoes to illustrate the number 6.
(EKA: Episodio 928)

Animation
6 blocks
(EKA: Episodio 804)

Film
Three cowpoke children ride their sticks along the dusty trial and find a toy workshop. The owner invites them in and spruces up their sticks to make them look like horses.
(EKA: Episodio 806)

Cast / Muppets
Carmen, Abelardo, Lola, Pancho and some kids sing "Leer y Escribir".
(EKA: Episodio 814)

Cartoon
The Ringmaster displays six marvelous monkeys who do stunts.
Artist: Jeff Hale

Film
Ornate Rs fly through the sky to a song.
(EKA: Episodio 917)

SCENE
Abelardo visits Vicente's cart and is told about rhymes. He tells Vicente he wants something to play with with his friends. Since his cart is loaded with toys, Abelardo's friends take the entire cart away.