Plaza Sésamo
Plot
Making a garden
Air date
2009 (season premiere)
Season
12
Sponsors
G, 16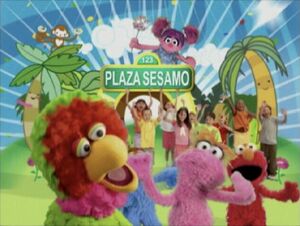 Picture
Segment
Description

COLD OPEN
Lola and a plant introduce the word of the day: "semilla" (seed).

SCENE
Pancho calls everyone to the center of the playground so they can make a garden.

Animation
A plant grows from a girl's compost heap.

Muppets
Abelardo presents the letter G, for "galleta" (cookie).
New music and background
(First: Episodio 933)

Cartoon
Madlenka waters her tulip, and invites everyone in her building to plant a garden.

Video
Gymnasts form a G, for Gloria.
(EKA: Episodio 804)

Animation
Counting 16 flows by 2s

SCENE
Abelardo, Pablo, Susana, Lola, Manuel and Daniela visit a farmer for soil for their garden.

Animation
A girl gets ready for the rain and uses her umbrella for a boat.

SCENE
Abelardo wakes everyone in the morning to show the progress of their garden.

Cartoon
Fish form G and g.
(EKA: Episodio 750)

Film
A man talks about cacti as kids observe them.
(EKA: Episodio 855)

Cartoon
Sixteen pigs form various acrobatic pyramids.
(EKA: Episodio 971)

Muppets
Lola introduces the number 16 and 16 clouds. (new music and background)
(First: Episodio 928)

Cartoon
"Sixteen Blues"
(EKA: Episodio 851)

Muppets / Film
Pancho Visión
Pancho rolls a film of kids tending to farm crops.
Film only: (EKA: Episodio 883)

Film
Paper crumples to reveal G, g, and Gg.

Film
Kids observe different kinds of bugs and flowers.
(EKA: Episodio 962)

Muppets
"Don't Throw That Trash on the Ground"