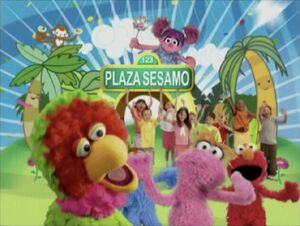 Picture
Segment
Description

COLD OPEN
Lola introduces the word of the day - "arbol" (tree).

SCENE
Abelardo recalls a story to Pancho, Daniela and Manuel.

Animation
A chicken feels many ways when hatching eggs.

Muppets
Pancho shows 7 dice.

Cartoon
7 kids build a 7.
(EKA: Episodio 867)

Film
Wegman's dogs form a letter P.

Cartoon
A girl imagines having a pet manatee.
(First: Episodio 944)

SCENE
Lola Aventuras
Lola sees the uses of the wind in a vast field. In her helicopter, she sees what else the wind is used for through windmills and to make energy.

Cartoon
P de Piña - Una piña (pineapple) sings about the P sound.
(EKA: Episodio 960)




Video
Gymnasts form a P, for Pedro.
(EKA: Episodio 843)

Muppets
Telly hands Big Bird his doll Freddy while he tries to remember where his baseball cap is. When he discovers it's been on his head the whole time, he tries to remember where Freddy is.

Cartoon
The Ringmaster introduces seven swimming seals.
Artist: Jeff Hale
(EKA: Episodio 751)

Muppets
Bert shows Ernie a way to pick up paperclips without using his fingers: By using a magnet! However, Ernie points out that Bert used his fingers to pick up the magnet.

Cartoon
A "pez" (fish) swims in various areas of the deep blue, only to reveal it's his fish bowl.
Artist: Oscar González Loyo
(EKA: Episodio 824)

Muppets
The Number of the Day: 7
Seven dancing chickens show up for the number of the day.
(First: Episodio 872)

Cartoon
A man blows 7 bubbles.
(EKA: Episodio 822)

Muppets / Film
Pancho Visión
Pancho rolls another film of kids visiting an airplane hanger and getting to ride in an airplane.
Film only: (EKA: Episodio 807)

Film
Kid jungle explorers sight a wild letter P.
(EKA: Episodio 888)

Muppets
Lola presents the letter P, for "pez". (new music and graphics)
(First: Episodio 931)

Cartoon
The different names for "Kite" in Spanish-speaking countries.
(EKA: Episodio 813)

Muppets
Telly and Elmo sing about the difference between "Heavy and Light".