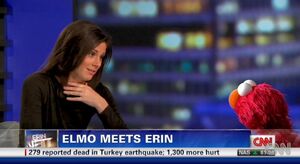 Erin Burnett OutFront is a news show on CNN at 7 pm, and repeated at 11 pm, which premiered in 2011.
Kevin Clash talked with Erin about Being Elmo: A Puppeteer's Journey, on October 24, 2011. She later talked to Elmo. Clips from the documentary were shown.
Elmo suggests playdates would solve the tensions in Washington, D.C..
External links