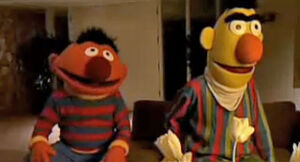 Ernest & Bertram is a 2002 short film by Peter Spears that spoofs Sesame Street characters Ernie and Bert. The film ran at the Sundance Film Festival, but kept from further distribution when its director was served a cease and desist order by Sesame Workshop's lawyers.[1][2] The short is based loosely on The Children's Hour, a tragic play by Lillian Hellman about unrequited love between two women.[2]
When the film starts, Miss Piggy has discontinued a romantic relationship with Bert when rumors of the roommates being gay hit the media. Ernie comes home and through conversation reveals that he does love Bert "that way." Bert seems not to return the sentiment, resulting in Ernie's suicide.
The film makes unabashed use of Sesame Workshop's characters and other copyrighted material. The similarities between Ernest and Bertram and Sesame Street included the names of the two principal characters, their physical appearances, and an arrangement of the Sesame Street theme song.
Sources
↑ Wolf, Buck "'Sesame Street' Threatens Lawsuit Over Gay Muppet Rumors" ABC News, April 9, 2002. Web. (Accessed 11/1/09.)
↑ 2.0 2.1 Goodridge, Michael "The best films you can't see: Ernest & Bertram is the latest in a series of acclaimed queer films banned from public view because their makers stepped on some famous toes." The Advocate (The National Gay and Lesbian News Magazine), July 23, 2002. Web. (Accessed 10/31/09.)
External links
Community content is available under
CC-BY-SA
unless otherwise noted.