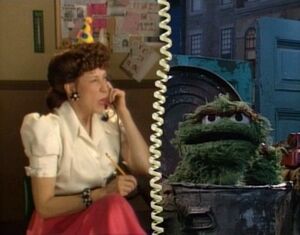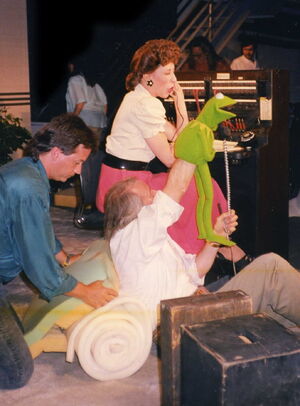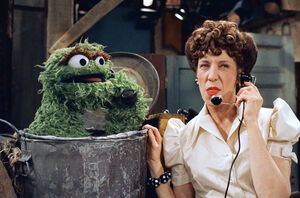 Ernestine the Telephone Operator is a character created by Lily Tomlin who originated on the sketch comedy series Laugh-In in 1969. Ernestine was a sarcastic, nasal telephone company employee, who counted the rings and greeted callers with "A gracious good morning to you" before launching into a verbal assault. Tomlin would reuse the character in the 1971 album This Is a Recording, several stage shows (including her 1977 Broadway show On Stage), commercials, and guest appearances (including The Electric Company, Saturday Night Live, and Free to Be... a Family).
Appearances
On Sesame Street, Ernestine was the operator for Oscar's phone booth in Episode 2594 (1989). She continued her association with Oscar in the 1993 special Sesame Street Stays Up Late, trying to connect an assortment of grouches, and was shown to be the phone operator for the Furry Arms Hotel in the 1995 season finale.
With the Muppets, Ernestine appeared in video segments for the Walt Disney World stage show Here Come the Muppets in 1990 and on the 1995 Kermit Unpigged CD (credited as "the studio manager"), connecting Kermit the Frog with a call from Miss Piggy.
References