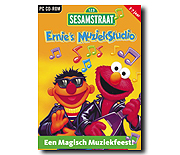 Ernie's Muziekstudio (Ernie's Music Studio) is a 2000 Sesamstraat CD-ROM game developed by Mindscape and Sesame Workshop. In the game, Ernie, Elmo, Koekjesmonster and Grover host a musical activity center with 8 activities to introduce music concepts including tempo, pitch, and unusual instruments.
Contents
"Musical Stickers": Use stickers to make songs in six scenes with Elmo.
"Sing-Along with the Muppets": Sing with the Muppets or alone.
"World of Sound": Discover sounds at the zoo, a farm, a home, and on city streets.
"Rock n' Roll Jam Session": Elmo and Ernie play guitar, Grover plays keyboard, and Koekjesmonster plays drums.
"Studio 543": Dance with Elmo and Grover while Koekjesmonster DJs.
"Elmo's Magic Music Machine": Compose songs using different instruments.