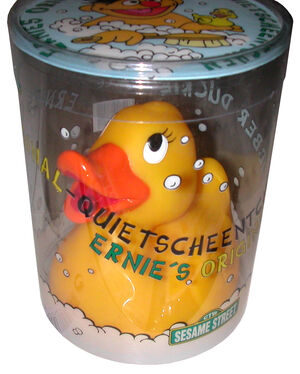 Ernie's Original-Quietscheentchen ("Ernie's original Rubber Duckie") was a 3D-replica of typical illustrations of Ernie's Rubber Duckie. The Sesamstrasse product was sold by German company Igel.
Though not a direct replica of the duckie used on the show, it comes closer to the original design than the US version of the toy made by Knickerbocker and Hasbro.
As a tie in, the company sold a wooden bath brush billed as Ernie's Original Badebürste ("Ernie's original bath brush"), donning an imprint of Ernie taking a bath with Rubber Duckie and the brush.