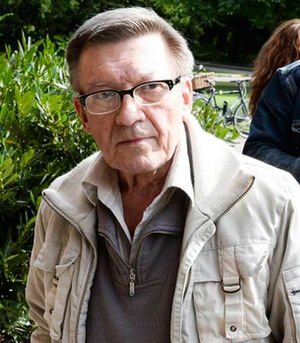 Esper Hagen (1948-2015) voiced Uncle Traveling Matt, Pa Gorg, and Gunge on Fragglerne, the Danish dub of Fraggle Rock. He also voiced Hoggle in Labyrinten til troldkongens slot, the Danish dub of Labyrinth.
Hasgen graduated from Odense theater school in 1971. He made his theater debut in 1967 in the role of Tommy in a play about Pippi Longstocking. He has since appeared in quite a few Danish theaters. In Denmark, audiences will mostly remember him from the role of Arnold Vinter in the TV series Matador.
His voice credits include Pocahontas (Lon), Atlantis:The Lost Empire (Preston Whitmore), Darkwing Duck (Launchpad McQuack), The Flintstones (Fred Flintstone), Batman: The Animated Series (Alfred, Harvey Bullock, Penguin and others), and The Smurfs as Papa Smurf.
External links