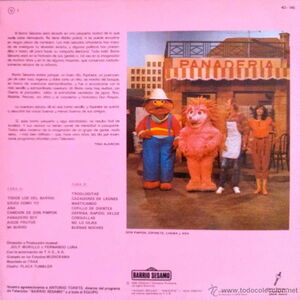 Espinete y Sus Amigos (Espinete and His Friends) was the second Sesame Street album produced in Spain. This soundtrack album for Barrio Sésamo, the Spanish co-production, was produced by Musigrama in 1985. The record came with a large glossy poster with Espinete on it. This album was also released on cassette.
There was also a single released for Espinete's song "Trogloditas" (Caveman).
Track listing
Side One
Side Two
Cast
Production credits
Direction and Musical Direction by July Murillo and Fernando Luna
Recorded at Musigrama Studios in Madrid
Mixed by: Trak
Design by: Placa Tumbler
Other releases
Trivia
The last song Buenas noches was a goodnight song and besides Spanish, was also performed in Galician, Basque, and Catalan. Between the verses Espinete wonders how this song would sound in the other languages.
On the casette the song Ricos Frutos was renamed Los Frutos Secos (Dry frute).