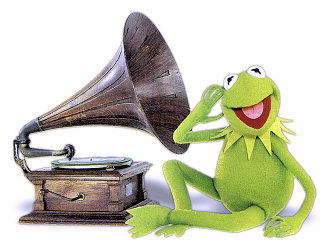 Existing and established recordings of popular songs featured in Muppet movies and specials.
"Brick House" (The Commodores, 1977): The Muppets wake up at the boarding house, and prepare for their day.
"Get Up Offa That Thing" (James Brown, 1976): Inspired by his otherworldly experience, Gonzo uses the lawnmower to mow a message in the lawn that can be seen from space.
"Dazz" (Brick, 1976): Gonzo hosts a hot-tub party on the patio for the alien relatives that he hopes will arrive soon.
"Getaway" (Earth, Wind & Fire, 1976): Having rescued Gonzo from the C.O.V.N.E.T. lab, the Muppets run through the hallways, avoiding the security guards.
"Outa-Space" (Billy Preston, 1971): Gonzo and the Muppets arrive at Cape Doom to wait for the aliens to arrive.
"It's Your Thing" (The Isley Brothers, 1969): The Alien Gonzos celebrate their reunion with Gonzo by loading him into a cannon and shooting him into the air.
"Back in Black" (AC/DC, 1981): A time-saving montage (a suggestion by '80s Robot) as Kermit and the gang collect the rest of the Muppets.
"Long Train Runnin'" (The Doobie Brothers, 1973): The Muppets depart on train to begin their world tour.