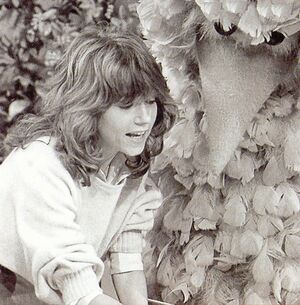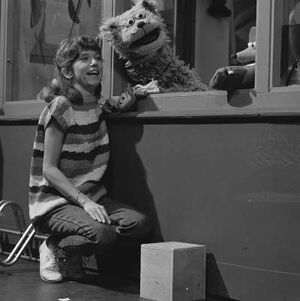 Esther Prins (1962) played Esther on Sesamstraat, the Dutch co-production of Sesame Street, from 1984 to 1988.
Esther was a teenager, and a 'big sister' and playmate to the Muppets. With the line: Hoi Tom, wat ben jij nou aan het doen? (Hey Tom, what are you doing there?) she entered her debut in Sesamstraat on screen. It was Tommie's birthday and he was fitting all kind of hats, when Esther entered the room. Her advice was to wear a bathing cap he was just fitting, and just go for a swim into the water.
She left the show and moved to America in 1988. Lot Lohr would take over the role of the teenage girl, followed by Elvan Akyildiz.
Beside Sesamstraat she also appeared in her debut in Er waren twee koningskinderen (once upon a time there were two children of the King), de Film van ome Willem (the movie about uncle Willem), Oma Fladder (grandma Fladder). Also she tried to get the part of Anne in Anne Frank on stage, but didn't made the audition for that. She was never active in theaters or television until 2015, when she had a role as Noa's mother in the short film Wonderland.
External Links