PERFORMER
various
DEBUT
1994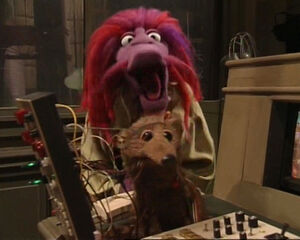 Eugene first appeared as an unnamed animal in the direct-to-video Muppet production Muppet Classic Theater. He upstaged the other characters by dancing frantically during the "Gotta Get That Name" musical number in the "Rumpelstiltskin "segment. Steve Whitmire revealed on alt.tv.muppets that "Brian Henson performed the mink in 'Gotta Get That Name'."
He received the name "Eugene" when he appeared on Muppets Tonight, usually performed by Steve Whitmire. He works in the control room as Nigel's assistant. Eugene functions mainly as a background character and a sight gag, although he can occasionally be heard laughing or grunting.
His precise species is never identified on screen, although he closely resembles Maureen the Mink from A Muppet Family Christmas. In an interview, Whitmire referred to him as a weasel.[1]
In a 1999 interview with fansite Muppet Central, Whitmire enthused about Eugene: "I loved that puppet probably more than anything else I did on that show."[2]
Filmography
Sources
See also