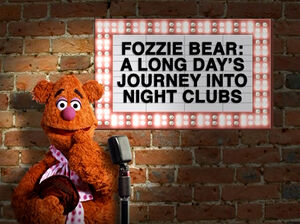 Eugene O'Neill was a playwright whose works helped shape American theater in the 20th century and who won the Nobel Prize for Literature in 1936. Usually stark drama, O'Neill's best known play is Long Day's Journey into Night, along with The Iceman Cometh, Mourning Becomes Electra, The Emperor Jones, and Ah, Wilderness! (a rare comedy).
Muppet References
Long Day's Journey into Night
Long Day's Journey into Night has been referenced often by the Muppets as A Long Day's Journey into Nightclubs, always in relation to Fozzie Bear.
Uncle Deadly offered some detail about the play's contents in a 2017 tweet, saying he was excited to be in Fozzie's production: "I play the maitre'd. #TipsWelcome"[1]
The Iceman Cometh
While never used in on-air dialogue, references to The Iceman Cometh appear as scene headings in several Sesame Street scripts, including the following: "The Postman Cometh" (Episode 1408), "The Eggman Doesn't Cometh" (Episode 1946), "The Sandman Cometh" (1408 and for the Sandman himself in 3059), "The Delivery Person Cometh" (Episode 3805).
Sources
See also