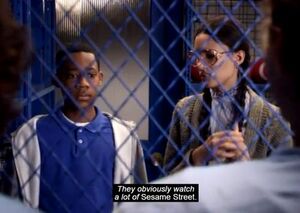 Everybody Hates Chris is a sitcom which ran from 2005 to 2009, narrated by and loosely based on the life of Chris Rock.
In the fourth season episode "Everybody Hates Big Bird", Chris begins dating Kelly, a tall girl in class who has been dubbed "Big Bird" by others at school. There's a scene in which members of the football team mock the couple:
Football Player #1: Hey, it's Big Bird!
FP #1: (to Chris) I guess that makes you . . . Snuffleupagus?
FP #2: No, it makes him Roosevelt Franklin!
FP #1: Cookie?
Both: COOKIE!
The narrator (adult Chris) quips "Who are they making fun of? They obviously watch a lot of Sesame Street.
At the end of the episode, Kelly appears after a make-over, teases Chris for not wanting to be seen with "Big Bird," and tells him "See you later, Kermit." The narrator closes with "Tonight's episode was brought to you by the letters D, A, M and N!"
Connections
Community content is available under
CC-BY-SA
unless otherwise noted.