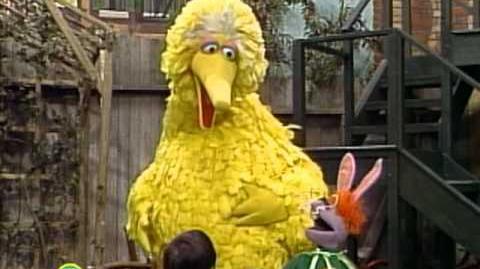 "Everyone Makes Mistakes" is a Sesame Street song first sung by Big Bird in Episode 0131, the season 2 premiere. He sings about how you shouldn't feel bad if you do something like spill your glass of milk, or make a mistake when you're counting. Everyone makes mistakes, so it's okay if you do, too.
Big Bird would reprise the song in several episodes, including Episode 0205, 0244, 0263, 0286, 0421, 0476, 0557 and 1950. The song was also performed on the show by Baby Bear and Zoe in Episode 4061.
On the record version, Big Bird talks to Farley before and after the song. Garibaldo also sang it on the original version of Vila Sésamo, the Brazilian co-production of Sesame Street, using the original music.
Cookie Monster performed the song in the CD-ROM game Music Maker.
Releases
Audio
Video
Publications
See also
Community content is available under
CC-BY-SA
unless otherwise noted.